Black & White: A Timeless Colour Combination
3rd August 2017
The class combination of black and white is one that's been loved for decades. Timeless and versatile, it can be dressed up to emulate grandeur and sophistication, or played down for a modern look with freshness and character.

Take a look at our top tips for using black and white in your home...
Turn up the drama
At opposite ends of the spectrum, black and white offer the ultimate in contrast. Use this to your advantage by placing one solid colour against another for dramatic results. Black cushions on a white sofa or white window frames against a black wall will have an instant, eye-popping effect, perfect for a focal point or feature wall.

As a general rule, try and ensure one colour features more prominently than the other in your scheme, or the eye can become overwhelmed, constantly flitting from one extreme to the other.
Think big
Wall art is no less effective when drained of colour. Designs vary from simple and eye-catching to intriguingly detailed, all guaranteed to capture attention in a room.
Soften your scheme
Alternatively, for a more subtle black and white scheme, consider introducing accent colours throughout to create a stylish yet liveable space...


Natural textures
Adding natural tones or textures in the form of wood, rattan or brick can help to create a subtle transition between the two colours.
Other shades
Warm pastel shades work beautifully in black and white schemes. Mauves, peachy pinks and pale golds will add a luxurious edge to furnishings, while, on the opposite end of the scale, dark blues, reds and greens will create a moody yet sumptuous look.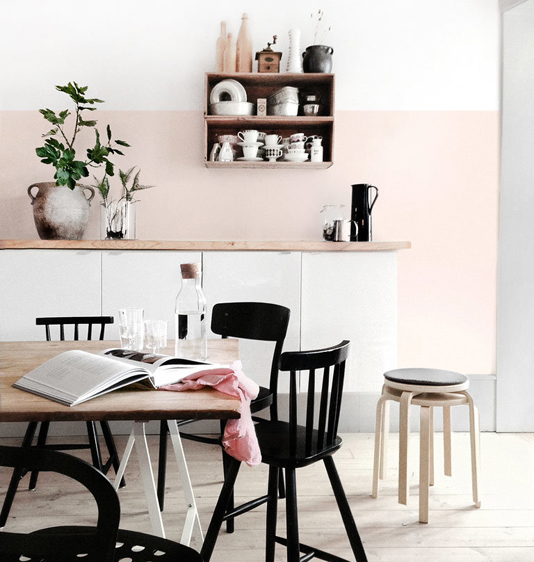 Experiment with pattern
If there's a pattern you love and want to show off, then black and white is the way to do that. The smart colour combination lends itself well to all patterns, from geometrics to florals and, of course, stripes.


Geometrics
A smart vibe is easy to create with black and white geometrics. Mix large and small scales, and light and heavy to create a pleasing scheme.
Florals
Black and white florals are extremely versatile, from soft countryside stems to bold blooms. To emulate the gothic, look for ornate designs and pair with polished surfaces such as porcelain or glass.
Stripes
Black and white stripes are a firm favourite, and come in a wide range of styles, from horizontal and vertical to wide, narrow and multi width, and even zebra print!

Black and white stripe wallpapers are not just smart, they're practical too. Vertical stripes can add height to a low-ceilinged room, while horizontal stripes can make a cramped space look bigger. Black and white stripe fabrics are excellent for adding accents throughout a room. A striped blind or sofa makes for a smart focal point, especially if the walls and surrounding furnishings are left plain. As a general rule, thinner, more subtle stripes create a traditional look, whereas thicker, bolder ones will result in a more modern feel...
---

A few of our favourites...