How to Create a Feature Wall
6th September 2017
A feature or "accent" wall is used to draw attention to a particular element of a room or break up a pattern, colour or theme on the other walls. Though it's a time-honoured interior design process, creating a feature wall can be daunting if you don't know where to start. Take a look at our top tips for creating bold, beautiful results you'll be proud of...
Choosing a wall
Where you create a feature wall may depend on the amount of light and space you have or even what it is you're showcasing, however, there are some walls which lend themselves well to being the centre of attention...

In the bedroom, the wall behind the head of the bed is often used as a feature wall. This area is perfect for accentuating beautiful bedding or an upholstered headboard, and allows you to go as big and bold as you like without disturbing your line of sight with bright colours or busy patterns while relaxing in bed.

The kitchen is another ideal space for a feature wall as it often gets overlooked during an interior makeover. A simple, pared back kitchen with a feature splashback will have an instant visual impact and works well even in small spaces.
Get clever with visuals
If you have a particularly large room or long corridor, position your feature wall at the farthest point the eye can see when you are standing in the entrance. This will make you and your guests feel drawn into the room, creating an element of intrigue which tempts you to explore further.
Scale two walls
If you really want to be clever, you can create a 'feature corner', perfect for a stairway or the end of a corridor, where the beauty of the wallpaper of collage can be enjoyed from two different angles.
Colour, pattern, scale
For a truly dramatic look, patterned wallpapers with large scale designs in contrasting colours work well. Don't be scared to mix patterns either. Block paint colours and plain wallpapers are also popular, and make the perfect backdrop to more elaborate items and accessories...
Bold needn't be bright
It's important to remember that a feature wall doesn't need to be overly bright or dramatically dark to have an impact. As a general rule, choose a slightly darker shade to the other walls to create a clear focus...the rest is up to you!
Get creative with your elements
Feature walls don't need to be just about wallpaper or paint, they can be created with anything, from a fireplace to a painting or collection of photographs. They also needn't be confined to the inside of your house...
Consider a wall panel
Wall panels are perfect for creating feature walls, and they're easier to hang compared with regular wallpaper as there's no need to worry about pattern matching. Wall panels come as a roll with clearly-marked sections which must be cut to form strips. These strips are then placed side by side on the wall to create your picture. At F&P Interiors, we sell a variety of designer wall panels, perfect for big and bold feature walls.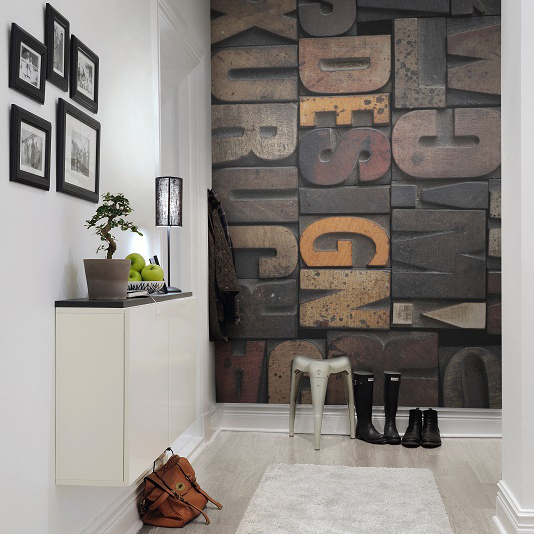 The rest of the room
Though you want your feature wall to stand out, you also want it to work within the grander scheme of the room. Draw out two or three colours from the design that you can use elsewhere. Try to take a fairly neutral colour to use on the three remaining walls, a mid-tone for furnishings such as the bedspread, upholstery or window dressing and save the brightest accent colour for small touches like scatter cushions or a lamp. Why not design a scheme to help you to visualise your new room...