How to Store and Preserve Your Summer Harvest
3rd August 2020
Has the summer season left you with armfuls of apples or a glut of green beans? Maybe you just spotted a supermarket bargain that was too good to resist? From curds to cordials, take a look at our handy tips for preserving your bumper crop…
Preserves
Jams and Curds
Making jams and curds is a great way to use up your glut of fruit and is easier than many people think. Jams are best made with soft fruits i.e. strawberries, raspberries, gooseberries etc., using a mixture of ripe and slightly under ripe berries, while curds (made with butter and eggs) lend themselves well to citrus fruits.

Stored in a cool dry place, homemade jam and curd can last up to two years. Once opened, keep in the refrigerator and consume within two weeks.


Nigel Slater's Lemon Curd | Jamie Oliver's Strawberry Jam | BBC Good Food's Gooseberry Jam
Pickles and Chutneys
Making pickle (a mixture of lightly cooked vegetables in sweet vinegar) or its smoother, spicier cousin, chutney is an excellent way to use up vegetables, fruits and even herbs. Pickles and chutneys can remain in good condition for several years, even improving with age, and make excellent accompaniments to cheese or cold meats.

Almost all vegetables and fruits can be used in pickles and chutneys, so if you've got a lot of something, chances are there's a recipe which can incorporate it. However, the following are especially suited: carrots, cauliflower, green beans, runner beans, courgettes, tomatoes, onions, rhubarb, apples, and pears.


River Cottage Piccalilli | BBC Good Food's Aubergine Pickle | Country Living's Rhubarb & Ginger Chutney
~
Fermenting
Celebrated for its numerous health benefits, fermentation is one of the oldest methods of food preservation and involves suspending vegetables in salt water so that natural bacteria can feed on the starch and sugar in the food and create lactic acid. As well as preserving your crop, this process also makes it easier to digest and produces a variety of gut-loving enzymes.

Various fermented dishes including kimchi, sauerkraut, and miso can be bought in shops, but they are often expensive and lacking in naturally-occurring probiotics due to the production methods involved. Fermenting your own vegetables is therefore beneficial all round, and will leave you with a range of exciting side dishes throughout the year.

Almost all vegetables are suitable for fermentation, as long as they are low in starch (potatoes are a no-go) and are not under or over ripe.


Great British Chef's Simple Sauerkraut | Delicious Magazine's Kimchi
~
Freezing
Whole Fruits and Vegetables
If you haven't decided what you want to use your fruit and vegetables for yet, then freezing is a good way to keep your options open. With fruit, simply lay it out on a baking tray so that none of the pieces are touching and then once frozen, put into freezer bags and label. Frozen fruit can be used in crumbles, pies and cakes, often without the need to defrost first, and is particularly delicious in smoothies.

Vegetables will need to be blanched (briefly boiled then transferred to ice water) before being frozen in the same manner as fruits. Blanching times will vary depending on the type of vegetable – a rough guide can be found here.

Please note: Water-rich vegetables such as cucumber, celery and lettuce should not be frozen and are best eaten fresh as they will become limp and soggy once defrosted.
Dishes
Making dishes ahead of time is not only a useful way to preserve fruits and vegetables - it can also help to take the pressure off hosting, and provide you with a quick and delicious meal that's homemade. Soups, stews, and bakes are particularly good as they can be made to incorporate a lot of vegetables, giving you a hearty dish to enjoy in the winter months when not much is growing in the garden. Likewise, sauces such as passata or harissa can be frozen and used in pasta dishes or curries at a later date.

Freezing is also an excellent way to preserve herbs. Fill an ice cube tray with chopped herbs, top up with olive oil and place on a flat surface in your freezer; the cubes can then be placed directly into the pot or pan when cooking, or allowed to defrost before adding to dressings. Alternatively, blitz herbs with breadcrumbs before freezing for a quick and delicious topping to fish or bakes.


BBC Good Food Smoky Sausage Casserole | Sainsbury's Scrumptious Freezer Scones | Waitrose Salmon & Spinach Fish Pie with Sweet Potato
~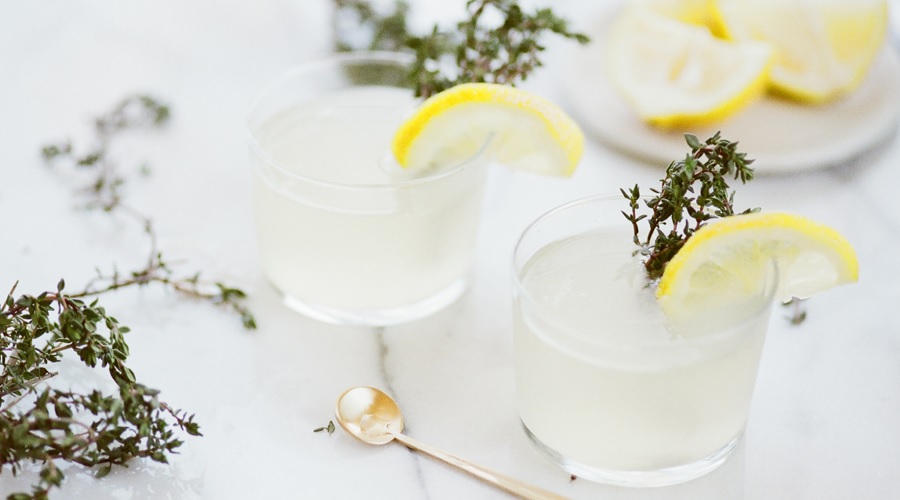 Bottling
Bottling fruit in the form of syrups, cordials or liquors not only prettifies your pantry shelf, but also provides you with delightful personal presents for Christmas or birthdays. Typically, the process involves boiling fruit or herbs before straining and adding other ingredients, and there are a whole host of recipes out there to get you inspired. Cordials make a great addition to barbeques and get-togethers, and are a lovely alternative to boozy punches, while syrups are perfect drizzled on cakes, ice cream or plain yoghurt. Fruity liquors are great in summer cocktails or sipped with ice in front of a roaring fire.


British Larder's Blackcurrant Cordial | The Garden of Eating's Lemon Balm Syrup | The Telegraph's Blackberry & Apple Gin
~
Things to Remember When Preserving Food
When making preserves such as jam or chutney, it can be an exact science, with even a small deviation having a big impact on the finished product, so always adhere to the measurements and follow the recipe precisely for best results. You should also ensure you follow health and safety precautions including correctly sterilizing containers and discarding any fruit or vegetables which have gone bad.

When picking produce from your garden, harvest first thing in the morning when it is freshest. If buying from a supermarket or grocers, avoid anything that is coated in wax, as this can be very difficult if not impossible to remove.
Further Resources:
Books:
Preserves: A Beginner's Guide by Jill Nice.
How to Store Your Garden Produce: The Key to Self-sufficiency by Piers Warren.
Let's Preserve It by Beryl Wood.
Making Wines, Liqueurs and Cordials: 100 Recipes and Variations to Create Delicious Lemonades, Liqueurs, Fruit Wine, and More by Beshlie Grimes.