Luxury Hotels with Superior Interior Decoration
14th February 2019
The major hotel brands like Hyatt and Hilton have long been the preferred choice of international travelers. They offer the same design and standard of room whether you are staying in London or Los Angeles. Customers were therefore happy to sacrifice eclectic design for consistency of comfort.
In the last ten years, however, hotel guests have become much more discerning about their interior design aspirations. According to the online magazine Hotel Designs, "Hotels are now styling their rooms in a more natural, hospitable way combining eclectic elements, contrasting colours, and vivid combinations around the rooms. In fact, hotels are enjoying a renaissance of colour."
Hotel News Now says hotel designers are trying to be more bold and colourful. They are using local handmade decor, unexpected texture combinations, and even vintage fabrics. This is something that frequent travelers will appreciate.
Firmdale Hotels - Ham Yard Hotel, London
In the UK independent hotel groups such as Firmdale, Soho House and The Hoxton have set the pace in design terms. Now, they are expanding to include more openings around the world.
Kit Kemp, co-owner and design director at Firmdale, is passionate about creating exciting and vibrant interiors. The group has eight hotels in London and two in New York. If you are looking for an unforgettable design experience book a room at the Ham Yard Hotel just off Piccadilly Circus.
Soho House - The Ned, London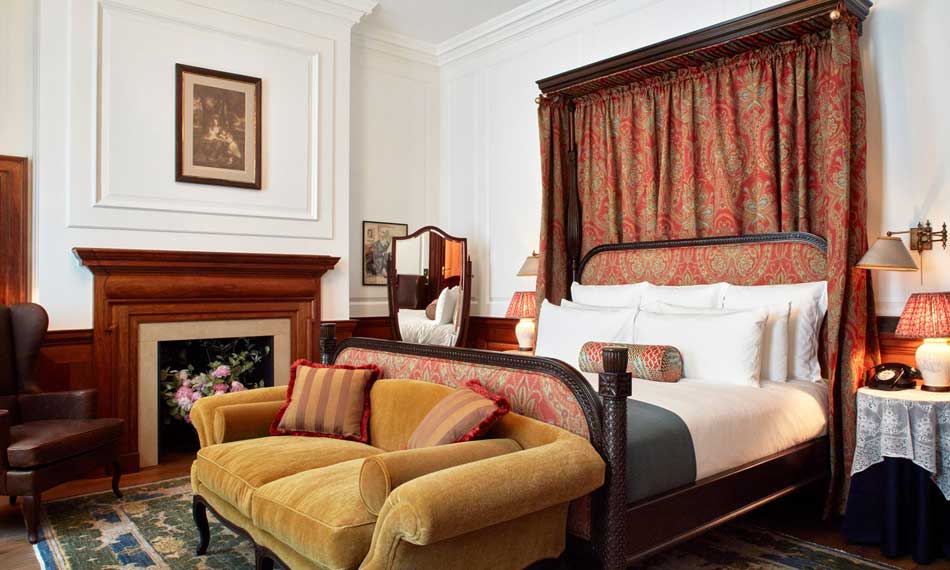 Soho House is best known as a members' club but it also has nine hotels in the UK as well as three in New York. The company's current design director, Linda Boronkay, aspires to create aesthetics which are appropriate to the setting. There is no signature Soho House design and each location integrates architecture and interiors to create schemes which guests aspire to in their own homes.
The Hoxton - The Hoxton Shoreditch, London
The Hoxton, currently has two hotels in London as well as one in Amsterdam and one in Paris. The Hoxton Shoreditch was the company's first hotel. All the bedrooms have wooden parquet floors, large mirrors, simple fabrics, and industrial features. These attributes reflect the history of the area and how far it has come.
Peach - The Highfield Town House, Birmingham
The Highfield Town House in Birmingham has 12 suites in a beautifully restored Victorian House. The hotel is managed by a company called Peach which has a number of hotels and pubs in market towns in the heart of England.
Their modern approach sees retro, luxury, and contemporary design collide. Antiques and Farrow & Ball paint are just as prevalent as wall murals and the self check-in. There's certainly no lack of character here.
The Witchery by the Castle, Edinburgh
The Witchery by the Castle offers a range of opulent suites in Edinburgh, each one unique with its own special features. Lavishly furnished suites display gothic touches. There's large oak and four-poster beds, velvet-lined walls, and flamboyant red and gold décor indicative of the style. There are separate seating areas and large bathrooms with free-standing silver baths. It's imbued with romance and splendour, ideal for sharing.
Shop Our Range of Urban Chic Interior Design Products
All imagery has been sourced from the hotels websites