Sculptured Velvet: History and How It's Made
11th December 2017
Sculptured velvet is a type of patterned velvet fabric, a textile synonymous with lavishness and luxury. The material's history of exclusivity came from its complicated weaving process. New technologies, however, have not shaken its reputation but only increased its popularity. This is how velvet has developed over the years.
The History of Velvet
The manufacturing of velvet has existed for thousands of years. There is evidence of hand-woven velvet production used by the Egyptians as early as 2000 B.C.. Then in Baghdad, Iraq, around the year 809 A.D., it is believed the expertise in velvet construction was introduced by Kashmiri merchants who travelled there.
It was the Renaissance, however, that became the incontestable golden era of velvet production. The velvet industry had a huge impact on the Italian economy. Fabrics were exported all over the world.
The epicentres of velvet manufacturing were Genoa, Florence, and Venice. The Genoese were renowned for the weaving of black velvet. Whereas, Florence was known for its production of velvets with looped metal boucle settled into thick silk pile. The Venetian velvets were then known for their extravagant, intricate patterns.
Italian triple-back settee ca. 1790–1800.
From the 15th to 17th centuries, velvet would have been among the most valuable items a person could own. It was an expression of wealth, taste and power that only the royals and nobility could afford.
Velvet fabric of the Renaissance was decadent. It was used for religious vestments, interior furnishings and often incorporated embellished coats of arms. Although the use of the fabric was the domain of the rich and religious leaders, its complex production meant that all other levels of society were engaged with it. They were craftsmen if not owners.
Skilled craftsmen were forbidden to leave the cities in which they worked. The fear was that they would spread their expert knowledge of weaving to competitors. Weavers often undertook over seven years of apprenticeships before they were considered professionals.
Additionally, as the industry grew, velvet manufacturing became highly regulated. Standards were set for the width of cloth, the dyes permitted, and the number of warp threads per centimetre. If the cloth was inferior to the criteria set, by law the material would have to be destroyed.
Woven silk velvet ca. 1450 to ca. 1500.
Spanish silk and metal thread garment from the first half 16th c.
Velvet Fabric Production
Velvet is a dense three-dimensional pile fabric, consisting of ground, warp and silk pile. The pile threads give velvet fabrics the unique look and feel that a flat fabric simply does not have. Velvet alters in colour in response to changes in light. That's just one reason people find it satisfying to run their hands across velvety materials.
Velvet fabric is produced using a special loom, which weaves the different yarns between two supports into a thick material. It is then split down the middle. This results in two mirrored pieces of fabric that have protruding threads. They provide the 'nap' and the unique silky softness of velvet.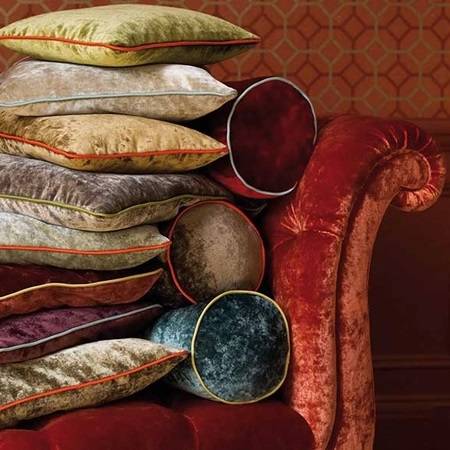 Sculptured Velvet Fabrics
Modern Velvet Fabrics
Thanks to mass production and the invention of power looms, velvet, in all its forms, is much more widely available. It is also produced in a variety of mixed materials, such as rayon, cotton, and polyester.
Of course, the most luxurious of velvets are still made entirely of silk pile. As well as cut and devoré velvets, there are also many velvets with screen and digitally printed designs.
Zoffany and GP & J Baker produce many cut, devoré and printed velvets. Their contemporary collections often appear in much brighter and bolder colours than the Renaissance velvets.
Designers Guild also offer many sculptured velvet fabrics, with the Casablanca Collection boasting many beautifully rich coloured contemporary designs.
Although velvet is more accessible, it still retains its association with royalty and indulgence. Its unique characteristics, in both production and history, remain unrivalled by any other fabric.
In 1993, Vogue journalist Mimi Spencer declared that sculptured velvet was to be the favourite fabric of the year, and little has changed in the last 25 years. Sculptured velvet remains prominent in designer and high-street fashion brands, as well as classic and contemporary furnishings.
Shop Our Luxurious Velvet Fabric Collections
You May Also Be Interested In...
There are many different types of velvet fabric, they can be made from a range of materials with a variety of designs, whether plain or patterned. Here's our top tips on how to style each type.
This beautiful velvet fabric has been printed with the highly sought-after Strawberry Thief pattern. We couldn't resist creating a bedroom scheme in our latest video starring F&P Director, Emma.