With our help, you are able to create something truly unique, control every element of the design, and get what you're looking for. You can have perfectly fitting curtains, blinds and soft furnishings in the fabric, style and finish you want.
All furnishings are beautifully hand made to the highest quality by our experienced team based here in Sussex. Whether you choose a traditional or contemporary style they will be made using traditional sewing techniques with a great attention to detail and once ready will be carefully packaged and delivered to your door ready to hang.
If you are not sure where to start then take a look at our guide to choosing the right curtains and lining below; Here you will find technical advice and design inspiration to create you the perfect treatments for your windows. Additionally, our Measuring Guide will help you supply us with the right information.
Get a quote for curtains or blinds online.
Our
Measuring Guide
will help you supply us with the right information
Our range of curtain poles and finials
Designing Your Curtains
Eyelet – These are popular for a more contemporary look with the choice of eyelet colour to suit your room. These can only be used on a pole and do not suit a Pelmet. They are perfect for people who wish to have their curtains to fold back tightly without spilling onto the window.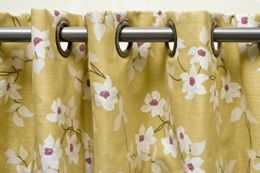 Hand double or triple pleat – These both create a lovely formal look, their hand finished design creates a very neat appearance and would suit either a pole or track.

Inverted Pleat – The Inverted pleat is designed for people who require a flat finish to their curtains, it gives a more contemporary look than the double or triple pleat and is better suited to heavier fabrics. The Inverted pleat should be used on a pole.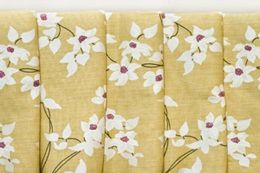 Pencil Pleat – This is a good everyday style, it is a tape heading which means they are good value as the makeup cost is less than others. Pencil pleat does look great with a pelmet if you wish to add something extra to finish your window. Can be used on a Track or Pole.
Simple Gather – These have a relaxed and soft look and we always allow a one inch stand up for this design. A simple gather can be used on a track or pole and works well with fabrics from our English Country Linens.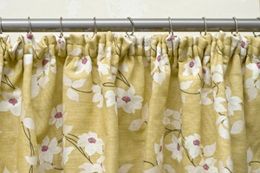 Adding trimmings and contrast binding can add style and colour to your curtains. We would normally allow 2" for a contrast binding and this can run around all edges, the leading edge and bottom or simply the leading edge. Alternatively you may want to use a pretty fringe, fan edging or braid to finish off your curtains. Fringe or fan edging on the leading edge works particularly well if you are having a fixed curtain with a drape held back by a matching tie back.
Tie backs are used for two reasons; some may use them as a practical tool to hold the curtain back off the window, others may simply want them as a finishing touch to their window treatment. Whilst many people have tie backs made in a matching fabric you can also have rope tie backs and these may pick out a feature colour within your room or match in. Rope tie backs normally feature tassels and sometime crystals so can be used to add a little glamour to your room. Another alternative is a Fixed Tieback , these are practical for curtains that are being drawn daily but also give a very smart finish. Of course many people find they don't have a need for tie backs and the curtains can simply hang in place.
The finishing touches to your room are essential, though it is important not to got too crazy, a little matching within your room will help to bring everything together. Many will have a few matching scatter cushions whilst others may go with a matching lampshade or chair cushions. As we offer a full bespoke service in soft furnishings, headboards and furniture we will be happy to discuss your individual needs with you, you can email us or call us on +44 (0)1273 495500.
Get a quote for curtains or blinds online.
Our Measuring Guide will help you supply us with the right information
Choosing the Perfect Blind
Blinds have always been a popular window treatment and can be either be used by themselves or teamed up with a pair of curtains. We offer two different blind options that offer very different looks for dressing your room.
Roman Blinds
These are our most favoured style by our clients; they are suited to the majority of fabric types and can be made to fit inside or outside the window recess. These handmade blinds come with either a covered baton and cord pulleys or with a cassette mechanism and chain pulley. When our roman blinds are down they sit flat with no discernible stitching to the face of the fabric to ensure a very smart finish. Roman blinds can be lined and interlined, blackout lining is popular too, especially for nurseries, if you are having a blackout roman blind you will also need to have them interlined to ensure no light seepage. There are some lovely little extra's you can add to a roman blind such as pretty trimmings or contrast binding to create a really beautiful addition to your room.
Roller Blinds
The alternative to Roman blinds are Roller blinds. These are an option when you want to minimalize the amount of light lost, want a very clean finish, or want to cut out light/protect furniture. Many of our clients use blackout roller blinds behind existing curtains when they don't want to change the curtains but do need the room to be darker. Also we can supply sun blinds, these do the opposite – they are a laminated light fabric that will protect your furnishings from harsh sunlight – or prying eyes - whilst still allowing the light to come through. We can also have the fabric of your choice laminated and made into roller blinds.
Roller blinds are favoured by people who generally want a simple finish for their windows, additionally, this maybe a practical choice if not a very large room and you don't want anything too overpowering. Roller blinds are created by a special form of laminating which rules out fabrics such as velvet, crewel and most embroidery as they cannot withstand the laminating process. Roller blinds can be blackout lined if required and can be operated by either a sidewinder or slow rise mechanism.
Both types or blinds have the option on a left or right side pulley/winder system.