Why Pelmets are Making a Comeback
9th October 2022
No longer solely crowning the curtains of stately country houses, pelmets are enjoying a resurgence in trendy, modern day homes. Decorative boarders that can be designed to suit any style of room, you have to look a little closer to discover that they offer so much more than just an attractive window framimg. So read on to discover why we are thrilled that they are making a comeback, and let us inspire you with how to style them...
What is a Pelmet?
A pelmet, or valance, is a wooden frame or fabric border that sits above a window and its curtains. Traditionally placed to decoratively hide the curtain track, they also help with blackout in the room and act as an extra layer of insulation in front of the window to reduce heat loss in your home. From soft to solid, and in an assortment of shapes to suit a variety of interior looks, pelmets look best when they are designed to complement the style and period of your home.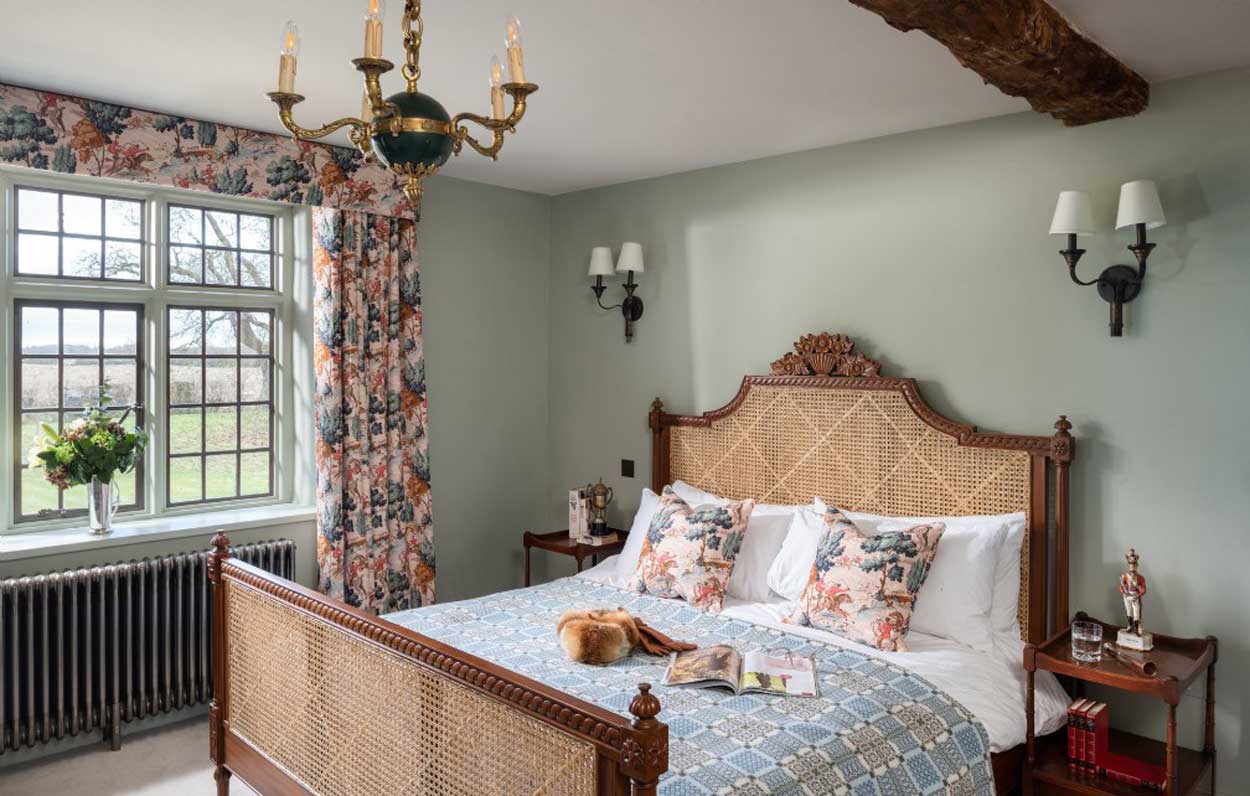 Different Types of Pelmet Explained...
Soft Pelmets:
Soft pelmets, often referred to as a valance, is a relaxed, decorative, fabric border that is used under a wooden corona or tester. Commonly seen in historic country estates, this traditional style is often adorned with over the top trims and tassels to create a luxurious and opulent period look.
Favouring timeless fabrics such as pretty florals, toiles and delicate chintz designs, we are also now seeing more contemporary prints being featured in modern day homes to inject flamboyance and exaggerated style into an interior scheme.
Solid Box Pelmets:
Structured and simple in shape, box pelmets are made from light wood / mdfa and are covered in fabric which sits over the curtain track. Often seen in country cottages and modern homes, the beauty of this style is that the depth of the pelmet can be altered to suit the dimensions of the room, especially if it is modest in size.
Creating a smart and more contemporary look, box pelmets embrace a wide range of fabrics including abstract patterns and geometric fabrics. If you prefer a modern, more chic interior style, a plain fabric pelmet with a braid trim will frame your windows beautifully and will provide a tailored and neat finish to the room.
Solid Shaped Pelmets:
Decorative crowns to frame your windows, shaped pelmets are becoming an increasingly popular feature in bedrooms and living spaces. Sculptural and shapely, they can be cut to whatever style you wish and covered in which ever fabric you desire. From multiple arches to soft curves, scalloped edges to boxed steps, their attractive forms can be further accentuated with complementary trimmings and braids.
When deciding on your design, a useful place to start is to consider the other furnishings in your room. By mimicking the contours of features like headboards, footstools or occasional chairs, you can neatly tie your new pelmet into the rest of your scheme.
Why Pelmets Are Making a Comeback...
We are thrilled to see that pelmets are enjoying a resurgence, not only because they add individuality and beauty to curtains, but they also offer clever styling solutions and interior tricks that can transform the appearance of a room. Read on to discover our top three reasons why you could consider adding a pelmet to your windows...
1. Play with Your Dimensions
Depending on the proportions of your home, a shapely pelmet can improve the look and feel of your room. Add drama to a small cottage window by concealing a matching roller blind, or increase the height of your ceilings by elevating the pelmet above the frame, the right shape and style can trick the eye and transform the dimensions of your home.
3. Individualise Your Home
From choosing your favourite fabric to getting creative with its design, pelmets can be fully customised to suit the personality and character of your home. By adding decorative trimmings to tie it into the rest of your scheme, or featuring contrasting fabrics to make a powerful design statement, adding a pelmet to your interiors offers another space to be creative and assert your individuality into your home décor.
Made to Measure Curtains & Pelmets
We make designing your perfect curtains and pelmets a simple and enjoyable process. Made in the fabric that you love by our experienced team here in Sussex, we will work with you to create something truly beautiful for your home.
The joy of custom made curtains and pelmets is that you have control over every element of the design. Whether you are looking for a simple box pelmet or a scalloped edge to sit across a bay window, our expert design team will guide and advise you to ensure that your new pelmet fits perfectly into your interior design.
Fully customizable with our range of decorative braids, fringing or tassels, we have over 20 years experience in helping customers to create homes that reflects their personality, lifestyle and budget, so please get in touch if you have a project in mind.
You Might Also Enjoy Reading...
How to Measure for Curtains & Pelmets
This quick and easy guide provides all the information you need for ordering made to measure curtains and pelmets for your home...